Fans! Who are the reason that I write. :)
Rhonda Valverde of Vampire Romance Books was interviewed in Woman's World Magazine and she mentioned about Heart of the Highland Wolf! Talk about being thrilled and perfect for Halloween!
I loved it: Werewolves for Grown Ups! Yes!!! Thanks to Rhonda and all my fans who can't wait until the next release!

And thanks to reviewers like RT Magazine that had a lot of nice things to say about Dreaming of the Wolf, releasing December 1!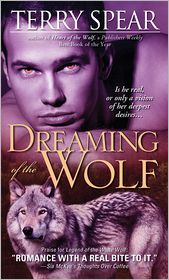 (ISBN 9781402245558)
by Terry Spear
Genre: Paranormal/Urban Fantasy, Paranormal Romance
Sensuality: HOT
RT Rating
REVIEW: In the eighth in her Werewolf series, Spear gives us a love-at-first-sight romance with intense and almost immediate lovemaking that really works with her fascinating characters and exciting action-packed crime drama plot. A great fantasy twist and yet another way to interpret the legend of weres.
Sub pack leader Jake Sliver is in Breckenridge, Colo., to drop off of his photography at a gallery when he catches sight of a woman staking out two deadly criminal types. She more than intrigues him, she turns him on.
Alicia Greiston is a bounty hunter, only this hunt is personal. She's after the mob men who had her mother killed. She's also attracted the interest of a certain Jake Silver, who offers her his protection, which pleases her as she's used to taking care of herself. She and Jake enter into a torrid affair which proves to be impossible to escape from, but they're also on a crash course with disaster in the form of the mob. If they survive, will the feelings they have for each other survive too? (SOURCEBOOKS, Dec., 384 pp., $7.99)
Reviewed By: Debbie Haupt
And thanks to Sourcebooks art department that outdoes each work of art every time!!! Now who could resists wolves that look like these do???

Heart of the Highland Wolf (Book 7), Dreaming of the Wolf, (Book 8, Dec 1), A SEAL in Wolf's Clothing (Book 9, Mar 1)
And thanks to Danielle for setting up an interview and review with USA Today for December!!! I'm so excited! She's really got me scheduled up for December for a Dreaming of the Wolf tour--one of the fun blogs? What would my hero do as he's Christmas shopping? I can't wait to sit down and write it.

And thanks to Deb and everyone else at Sourcebooks who makes sure that the books are great reads!!! I'm still waiting for Deb to put me on her list of male model reviewers, despite that she's doing a great job without me!

I would be remiss if I didn't also thank my fellow Casa Babe authors who are there for all of us! I can't say enough about how proud I am of all their accomplishments, USA Today best sellers, NY Times best sellers, RT top picks, PW's top picks and the other tons of accolades that our authors have earned that I can't think of off the top of my head. Keep on winning with your great books!

My family who cheer me on! And my critique partners, the Rebel Romance Writers, who also are behind me 100% and are my first readers as I plod along in my quest for completion.

And thanks to my librarian coworkers who are also so supportive!
And lastly to Jack London, whose tales about wolves in The Call of the Wild and White Fang encouraged me to write my wolves the way that I do.
But back to my earlier question: Would you take a chance with one of the wolfish hunks featured in the above covers? And which one would you prefer and why?
Terry Spear
"Giving new meaning to the term alpha male where fantasy IS reality."
www.terryspear.com