Do you ever go through reading dryspells? I do! More often than I like to admit. In fact, I'm going through one right now… And when I do, I re-read tried and true favorite books and authors of mine. Here are a few that I turn to: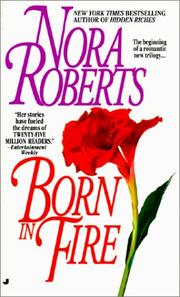 Born in Fire by Nora Roberts—so, you guys all know by now that when I was younger, I used to steal my mom's romance novels and read the dirty parts when I was far too young… but when I was finally a little bit older and slightly less immature (verdict is still out on that one), my mom actually recommended I read Nora Roberts' Born In Trilogy. The first book, Born In Fire, is SO GOOD. First of all, the heroine is super sassy and a glass blower. Second, the hero is a successful art dealer and hot. Third, it takes place in IRELAND. When I'm looking for reminders about why I love romance, I go to one of the first ones I read and loved from start to finish. Thanks, Mom!
Persuasion by Jane Austen—Persuasion was my first Austen novel, which I read at 11… but I'd say the first time I really read and understood it was in my late teens. Anne is such a great Austen heroine, and that LETTER Captain Wentworth sends in the end is so romantic! I audibly sigh every time I read it. But I also love Austen's side characters, and Anne's family is among the most clueless and hilarious and endearing of all of her books, in my opinion. I will say that when I re-read Persuasion, I generally end up reading all of the Austen novels back to back! This year, I improvised and listened to the rest on tape.
The Harry Potter Series by JK Rowling—I was one of those teenagers—I read Harry Potter the Sorcerer's Stone, the Chamber of Secrets and the Prisoner of Azkaban in about a week after my grandma recommended them to me. After that, I went to Borders at midnight to get my copy of Harry Potter and the Goblet of Fire, the Order of the Phoenix, the Half-Blood Prince, and of course, the Deathly Hallows, and stayed up through the night reading each one of them in a day or two. It is, in fact, what I consider one of the things that kept my brother (who is 4 years younger than me) and I close through our adolescent years… to this day we call each other "muggles" when one of us does something dorky! JK Rowling continually reminds me why I fell in love with reading at such a young age, and I love finding something new or thinking about something different with each re-read.
Lord of Scoundrels by Loretta Chase—I remember attending RWA Nationals in Washington DC and I met Sarah Wendell of Smart Bitches Trashy Books for the first time. She must have sensed that I was not that versed in reading romance (seriously, not in the immature way I had been reading!), and asked me if I'd ever read Lord of Scoundrel. I said no, and I'm pretty sure she just about fell over. I was tasked to read it immediately. And as soon as I got home, I bought a copy. She was correct—I needed to read this book. Jessica is hands-down one of my favorite historical romance heroines EVER and Dain, well, he deserves to be put in his place by such a lady. But when he finally realizes how great Jessica is just as she is, he's swooningly romantic.
A Wrinkle in Time by Madeline L'Engle—I actually love this entire quintet of books (A Wind in the Door, A Swiftly Titling Planet, Many Waters and An Acceptable Time), but the first is my favorite. In Meg I found a kindred spirit, Charles Wallace was way cooler than my little brother, and I too, had a crush on the neighbor boy (who I am not marrying, but Meg married hers)! This was also one of my first experiences with science fiction and fantasy, and I thought it was so clever. The fourth-dimension, a giant talking brain, a girl with glasses who saves the day? Sold.
As I mentioned at the beginning of this post, I'm going through a reading rut right now, and I'm throwing a new book into the mix: The Hunger Games by Suzanne Collins. I read the three books last year right before the movie came out very quickly, and I really enjoyed them! But now that I'm starting with the first book and reading it more slowly, I'm enjoying it all the more.
GIVEAWAY! Tell us in the comments what books you love to re-read!
I
have a fun prize this month: a very exclusive Sourcebooks Casablanca wine glass. This was ONLY available to authors at our RWA Author dinner at the end of last month, and they are super cute. Additionally, I'll let you choose a copy of any of our August or September releases (list will be sent to winner).
I'll choose TWO winners on Monday, August 12—authors, this is open to you too!
Giveaway open to US and Canada only, please be sure to leave an email address so I can reach you.