by
Macy Beckett
Toss the confetti, pop the champagne, and cue the dancing cowboys, because A SHOT OF SULTRY is available in stores and online! This is Trey's story, (you met him in the first Sultry Springs book, SULTRY WITH A TWIST), and believe me when I say that you want to curl up in bed and spend a little time with Trey Lewis. The man is so hot he singes the page!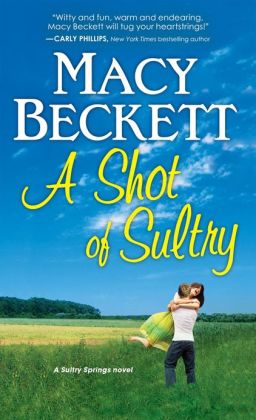 For West Coast filmmaker Bobbi Gallagher, going back to Sultry Springs is a last resort. But with her career in tatters, a documentary set in her hometown might be just what she needs to salvage her reputation. She just can't let anything distract her again. Not even the gorgeous contractor her brother asked to watch over her. As if she can't handle filming a few rowdy Texans.
Golden boy Trey Lewis, with his blond hair and Technicolor-blue eyes, is a leading man if Bobbi ever saw one. He's strong and confident and—much to her delight—usually shirtless. He thinks keeping his best friend's baby sister out of trouble will be easy. But he has no idea of the trouble in store for him...
What are the big reviewers saying?
"...Readers will be left with smiles on their faces and more than ready for more of this quirky little town." 4 Stars -RT Book Reviews
"[A] heartwarming, humorous story of second chances." -Publishers Weekly
"Beckett's foray into love in a small town bounces from funny to endearing to poignant... " -Booklist
Want to hold Trey Lewis in your hot little hands? I hope you do! Here are the links where you can find him:
Amazon
Barnes & Noble
Books-A-Million
Indigo
Indie Bound
Happy reading!
One lucky reader will win a copy of
book one
in the series, SULTRY WITH A TWIST, (US/CAN only, please). Just leave your email in the comments section so I can contact you if you win. Giveaway closes March 2nd at 5pm EST. Good luck!
Macy Beckett writes hot & humorous small-town romances set in Sultry Springs, Texas, where first loves find second chances. Her debut novel, SULTRY WITH A TWIST, released in October from
Amazon
,
Barnes & Noble
,
Books-A-Million
,
Indie Bound
. Book 2 in the series, A SHOT OF SULTRY, is now available. Macy loves to keep in touch with readers on
Facebook
and
Twitter
, so stop by and say hello! Additionally, she writes YA sci-fi under the name Melissa Landers.