Are you packed and ready? For this? Blue skies. Palm trees. Blue water.
And this...wolves with style.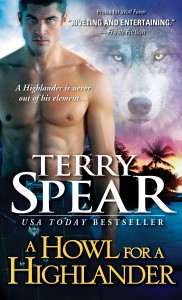 Oh, sure, just ANYONE can go to the beach. But what if you were to find HIM on the beach, and when he saw you...man, you sure got his attention. And what if he needs some sun tan oil rubbed into all those muscles. I mean, Celts DO have fair skin. And what if he wants to rub all that oil on YOU next--either out of the bottle or share some of his own. And what if swimming isn't all he wants to do with you in this island paradise.
Like...take a run on the wild side. What? You thought he was thinking of something else? Well, he would be...but that's private between the two of you. I would NEVER want to put that up for all to see. Not even in a book.
Well, maybe in a book. Where do you think I get my ideas from?
So even if you hadn't planned a vacation, this one doesn't cost a whole lot and you get a big gray Highland wolf with it too! And he's yours to keep. :)
Genre:
Paranormal Romance
Series:
Werewolf Series, Book 10
Release Date:
February 5, 2013
Publisher:
Sourcebooks Casablanca
Formats Available:
Mass Market Paperback, Kindle, Nook
Purchasing Info:
Author's Website, Publisher, Amazon, BAM, IndieBound, Book Depository, Chapters/Indigo, Powell's, Goodreads, Kindle, Barnes & Noble, Nook, iTunes, Kobo, Books On Board, Discover New Love.
Book Blurb
A Highland Wolf on a Mission…
Duncan MacNeill is hell-bent on catching the thief who's stolen the clan's fortune and run off to Grand Cayman Island. Duncan has rarely left his homeland and he couldn't care less about an island paradise. He never expected to find a beautiful distraction who will show him just how appealing paradise can be…
Meets a Dangerous Distraction…
Lone wolf and botanist Shelley Campbell headed to the island to study the old growth forests. She didn't count on meeting a handsome Highlander who can't keep his paws off her.
And it's time to get back to business--
Howl for the Highlander and he'll come for you!
To one lucky commenter-- an autographed copy of anyone of my books!
So tell me, if you were a free woman, would sharing a cabana with a hot Highland wolf appeal?
Terry
"Giving new meaning to the term alpha male where fantasy IS reality!"
www.terryspear.com