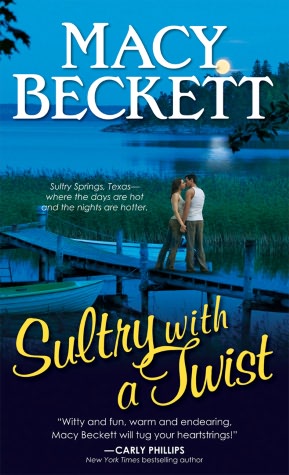 Pour the champagne and cue the dancing girls! Wait, strike that. Cue the dancing GUYS! Because my debut novel has FINALLY released!
Woohooooo!
Welcome to Sultry Springs, Texas: where first loves find second chances...
Nine years after June Augustine hightailed it out of Sultry Springs with her heart in pieces, one thing stands between her and her dream of opening an upscale martini bar: a bogus warrant from her tiny Texas hometown. Now she's stuck in the sticks for a month of community service under the supervision of the devilishly sexy Luke Gallagher, her first love and ex-best friend.
If Texas in July wasn't already hot enough, working side-by-side with June would make any man melt. Luke wants nothing more than to strip her down and throw her in the lake--the same lake where they were found buck naked and guilty as sin all those years ago. In their heads, they're older and wiser. But their hearts tell a different story...
And what do reviewers have to say?
Beckett's delightful debut is a sweet mix of lighthearted romance and down-home charm
. - Publishers Weekly
Heaping doses of heart, passion and laughter. The well-drawn characters and setting give this story a depth that makes it pop off the page
. 4 Stars - RT Book Reviews
Beckett's clever book is full of both humor and pathos
... - Booklist
A great introduction to a series that looks to be wonderful
. - Night Owl Reviews
The romance is H-O-T but still sweet and swoony
... - Life is Short, Read Fast.
Incredible... sultry sex scenes, witty banter, and an engrossing story
. - Guilty Pleasures Book Reviews
Witty and fun, warm and endearing, Macy Beckett will tug your heartstrings!
Carly Phillips, New York Times Bestselling Author
Hilarious, heartwarming, sexy and real--you'll fall in love, guaranteed! -
Lori Foster, New York Times Bestselling Author
I'm tickled pink! Hot pink, see?
And to celebrate the launch of my debut romance, I'm giving away a copy of
Sultry with a Twist
to one lucky commenter! (US/Canada only, please. No PO Boxes) Just leave your email in the comments below so I can contact you if you win. The giveaway is only open TODAY, October 4th, so don't wait! At 11:59 pm EST, I'll assign each comment a number and use random.org to select the winner. Good luck!
Macy Beckett writes hot & humorous small-town romances set in Sultry Springs, Texas, where first loves find second chances. Her debut novel, SULTRY WITH A TWIST, is now available at
Amazon
,
Barnes & Noble
,
Books-A-Million
,
Indie Bound
and several other retailers. Book 2 in the series, A SHOT OF SULTRY, is now available for pre-order. Macy loves to keep in touch with readers on
Facebook
and
Twitter
, so stop by and say hello!