By Mary Margret Daughtridge
The other day, in reference to a promo blog I had written about SEALed Forever (coming in 2011) I received this from my editor:
I changed "her house is haunted" to "a house could be haunted" b/c I don't want your readers to think there's a ghost--you can't go paranormal now.
She's absolutely right. I don't write "paranormals," and I wouldn't want to give the impression that I do...but. SEALed Forever has plenty of "things that go bump in the night." It got me thinking, what's "paranormal" anyway?
The word was coined in 1920 as a neutral term intended to separate the legitimate study of psychic phenomena from spiritualism, the supernatural, and superstition. It was meant to give psychic phenomena a platform which made it susceptible to scientific investigation.
It didn't work. Thirty or forty years later, study of psychical occurrences had completely bogged down between extraordinarily boring research on the one side and accusations of gullibility or outright chicanery on the other. The whole subject wound up right back where it started. "Paranormal" became synonymous with spiritualism and the supernatural. And the reputation of anyone who took it seriously was trashed.
When I looked up the word paranormal to write this blog, I learned that UFO's had fallen under its umbrella. Huh? It turns out the same reversion of definition had happened to "UFO."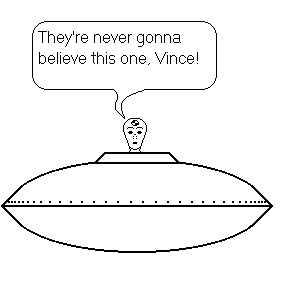 In the late 1950's "flying saucer" had become equivalent with alien spacecraft—and anyone who claimed to see one was nuts. Back in those days, everyone knew there were no life-sustaining planets other than Earth, and even if there were, space travel was impossible.
Believing the sightings were worth studying, and looking for a neutral term which said nothing about the origin of the aerial oddities, J. Allen Hynek, PhD, a respected astronomer, coined the term, Unidentified Flying Object.
It didn't work. Interest in a very real phenomenon (i.e. photographable objects in the sky that witnesses can tell are not ordinary craft) became proof of credulousness at best. If you admitted to seeing one, you were a little thin on brain cells or at worst a hoaxer. And UFO's became synonymous with "space aliens," and the next thing you know, they were paranormal too.
But the word paranormal wasn't done with gathering the strange under it's wing.
In the publishing world, in addition to ghosts and witches, suddenly even the staples of horror fiction--vampires, werewolves, devils and demons—moved into the romance genre and morphed from villains to good guys. Put them in a romance and instead of getting a stake through the heart, they find true love. When the story ends, in the case of vampires, they live--no, that's not right. They remain undead happily ever...and ever...and ever after.**
In context, obviously that's the definition of paranormal my editor meant.
My novels are reality-based, and the hero and heroine plenty smart thank-you-very-much, yet in all my books there is an encounter with the unknown, the inexplicable, the other-worldly.
That kind of thing is incidental to the external plot, which is probably what makes my books not-paranormals. At no point must the reader suspend disbelief--if they are unbelievers.
The thing is, for me, encounters with the paranormal (definitions 1 and 2) aren't fantasy. They're just some of the things that happen to people. How a character reacts when they happen is enormously revealing. The events are in fact within the normal range of human experience. (A Wikipedia article cites two polls. One showed 76% believe in at least one manifestation of the paranormal. Another poll revealed that 70% have had at least one paranormal experience. http://en.wikipedia.org/wiki/Paranormal
So, despite the fact that a haunted house is the sine qua non of the paranormal, and I don't write paranormals, in SEALed Forever, there's a haunted house. Well, maybe.
Shall we conduct a totally unscientific poll? Where are you on the paranormal spectrum of belief? True believer or total skeptic? Or something in-between? Which manifestations of the paranormal are acceptable to you? Which are way too far out? Is there anything you believe in and find scary? Is there anything paranormal you believe in and find not scary at all--not even very weird?
**Oh! Oh! [clutches temples] I'm getting a precognitive flash! Kathryne Kennedy will be here tomorrow, and she will actually enlighten us about the Paranormal Romance subgenre.