I love a book that can make me laugh—and I mean laugh out loud, in the middle of the library or on the train or at Starbucks surrounded by strangers! And there are so many amazing books that do this, but there are some that I wish I had though of myself—that I literally ENVY the author for coming up with something so clever and witty, that I wish I was that awesome. A few of my favorites and the scenes that left me chuckling:
Bridget Jones' Diary by Helen Felding:
this is also one of my favorite "chick lit" novels of all time, and how clever of her to update our beloved P&P! But the scene that I read time and time again is when Bridget decides she's going to wear Granny Panties out one evening and eventually ends up in bed with the dashing Daniel Cleaver… I distinctly remember spitting out coffee once in a bookstore, well after I had first read the book. And who can forget the movie? Love It!
Tikki Tikki Tembo by Arlene Mosel, illustrated by Blair Lent
: I love this book because I remember my mom reading it to me when I was younger, and as an avid babysitter throughout my adolescence and college years, I loved reading this book to the kids I watched. If anyone has kids, I'm sure the refrain, "Tikki tikki tembo-no sa rembo-chari bari ruchi-pip peri pembo" rings a bell! Just trying to say it is hilarious, and the story that goes along with it is too much fun!
Good Omens: The Nice and Accurate Prophecies of Agnes Nutter, Witch by Neil Gaiman and Terry Pratchett
: Not very many people find the coming of the Apocalypse hilarious, but I'm pretty sure Neil Gaiman and Terry Pratchett can make anything funny, but poignant at the same time. Basically, the Antichrist is switched at birth, a
nd he's raised in a family that's totally normal (and subsequently the "normal" little boy is sent to live with the family to teach him of the coming end of the world)—but around the age of 11, he starts to wonder what would happen if he could just destroy the world and start over. The 4 horseman of the Apocalypse are 4 bikers, there's an angel and a demon who decide to band together to try to stop everything, and one witch who foresaw it all from the beginning.
Emma by Jane Austen:
Jane is often brought up for her wittiness and humor, and two characters in Emma that leave me in stitches every time I re-read it are Miss Bates, a spinster, and he
r very old mother, Mrs. Bates. Miss Bates is a bit socially awkward, but the scenes where she repeats everything at a louder volume so her mother understand what's being said always cause me to laugh, perhaps a bit too loud. And the way they dote on Jane Fairfax is classic!
A Midsummer Night's Dream by William Shakespeare:
Yes, I'm one of those overachieving English Majors that has read all of Shakespeare, and while most of the historical plays run together, I think my most favorite of his comedies is A Midsummer Night's Dream—everything from the situation of the young people in love to the fairies in the forest to the band of players charged to put on a play at the celebration of the weddings—I could go on and on about this play (though Twelfth Night is a very close second!). I've seen the Chicago Shakespeare Company's production of this play, and it's one of my most favorite stage memories. "Lord what fools these mortals be!" will perhaps always be one of the most memorable quotes from Shakespeare, too; and how that phrase holds true too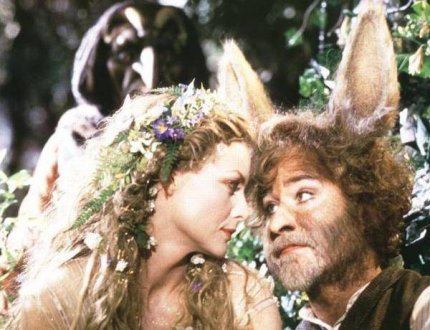 often!
What are some of your favorite comedic moments in literature that make you laugh out loud? There are so many more that I could list—I'd love to hear some of yours!