by Danielle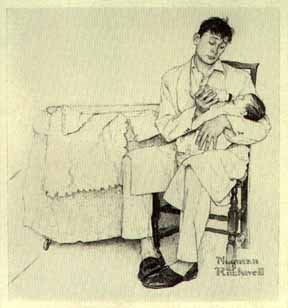 Well, first of all, Happy Father's Day! I tried to find a pic of Papa Jackson and I, but our scanner is on the fritz and I tired of toying with it. Anywhoo, enjoy this cute little Norman Rockwell line drawing.
Seeing as how I've ended up on two Sunday spots in a row this month, I'll continue what I did last time and give you all another Sourcebooks announcement! A few years ago, Sourcebooks released a little book called Mr. Darcy's Diary by Amanda Grange, which, aside from Mr. Darcy Takes a Wife by Linda Berdoll (another Sourcebooks release!), has become one of the most successful Austen sequels EVER, solidifying both Amanda Grange and Sourcebooks as the premiere author and publisher of this ever growing genre!
Now, I know many of you will read the announcement below and think, "Ohmigod didn't we already have Austen and Zombies?" But this book is very different—for one, it's not a parody—it's an actual continuation. And Amanda has created an incredibly smart new twist on just why Mr. Darcy is so reserved… Get ready to re-imagine P&P in a way you never thought possible! (And holy crap—look at the cover—the design team has done it again)
Sourcebooks Landmark Announces New Major Release:
Mr. Darcy, Vampyre

NAPERVILLE, IL (June 10, 2009) — Sourcebooks Landmark, the leading publisher of Jane Austen-related fiction, is excited to announce a major release in the category: Mr. Darcy, Vampyre by international bestselling author Amanda Grange.


Amanda Grange's style and wit bring readers back to Jane Austen's timeless storytelling, but always from a very unique and unusual perspective, and now Grange is back with an exciting and completely new take on Mr. Darcy and Elizabeth Bennet in Mr. Darcy, Vampyre.

"Amanda Grange is our internationally bestselling author of Mr. Darcy's Diary," says Sourcebooks acquisitions editor Deb Werksman, "and we were so excited when she came to us last year with this brilliant vision for an altered Darcy. Amanda starts where Pride and Prejudice

Sourcebooks has announced an on-sale date of August 11, 2009. ends and introduces a dark family curse so perfectly that the result is a delightfully thrilling, spine-chilling, breathtaking read. A dark, poignant and visionary continuation of Austen's beloved story, this tale is full of danger, darkness and immortal love."
Sourcebooks is excited to release this book before, you guessed it, an onslaught of paranormal Austen literature this Fall and Spring 2010! I've read it, and if you like historical fiction, have even the slightest interest in how the vampire legends started, or just want to read a new creative twist on our dear Lizzy and Darcy, then I HIGHLY recommend this book.
Hope you all had a great weekend.