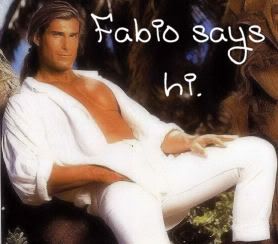 So this is a picture from my vacation. Yeah, yeah, so it's the "online surfing" portion of my vacation. Who said my brain didn't get to have a Spring Break too? And anyway, it's Wednesday, and everyone can use a little Fabio to get them through the rest of the week:-)
Anyway...
I really am on vacation with the kids in North Carolina right now and trying to keep my computer time light so I can actually enjoy the week off, but my mom and I were having a discussion about romance this afternoon: what we liked in books, didn't like, etc. I can see that I probably picked up Marie's cosmic vibes or something, because she talked about one side of that equation on Sunday with her pet peeves (and IMO, they were pretty spot on). So today, I thought I'd mention a few of the things that draw both me AND my mom, who I've mentioned is an avid reader and by the way has a TON of books here I want to read, to pick up and enjoy a romance novel. They're things I've tried to address in my own writing, of course, so I can only hope that one or more of these helps
Wild Highland Magic
fly off the shelves!
1. Great Cover. I can't tell you how many books I've picked up by authors I hadn't heard of simply because of an awesome cover. It may not say anything about the writing, but if you can stand out and get picked up (ha ha) in a crowded book aisle, you're halfway there already! And I'll admit, I'm a very visual person. I hunt for interesting covers.
2. A strong, non-wimpy heroine. I used to be more forgiving about this, and it still depends somewhat upon the time period, but I
really
do not like wussy heroines. I want a heroine with a strong voice, a woman who takes responsibility for her own destiny. She can have her hang-ups, sure, but I don't want her life to be all about the hero as soon as she meets him. She doesn't have to be a gun-toting tough girl, but I do want a heroine who always holds her own...and I do love it when she gives the hero a run for his money.
3. A flawed hero with heart. I still think Julie Garwood's Highland lairds and medieval barons are the best examples I can think of here. They're larger than life in a way, but they show their imperfections without coming off as insufferable jerks. They're real men as well as heroes. they can be grumpy husbands, they misread their heroine's signals, they do stupid things sometimes...and they also change and grow as a result of the heroine's love. I don't want a perfect hero. I mean, ew, where's the fun in that?
4. Sex scenes that mean something. And that don't suck. I have read everything from pulse-pounding to yawn-and-skim, and I stand in awe of the authors who manage pulse-pounding every time. Especially now that I know how hard they are to write! But I'm an idealist: I want the build-up, and the payoff, to be as engrossing as the rest of the story.
5. A great voice. I know this is the thing we really have no control over as authors...we sound the way we sound, and each of our voices is unique. But honestly, my process for buying a book is as follows: pick up book with cool cover, read back copy, open and skim a couple pages to get a sense of voice. If I can "hear" the story and the characters immediately, I'm in. Even if I was on the fence after the back cover. I may be a writer, but I still love falling into a good story more than anything.
So what about you? What draws you to a romance? Besides Fabio, that is:-)
-Kendra