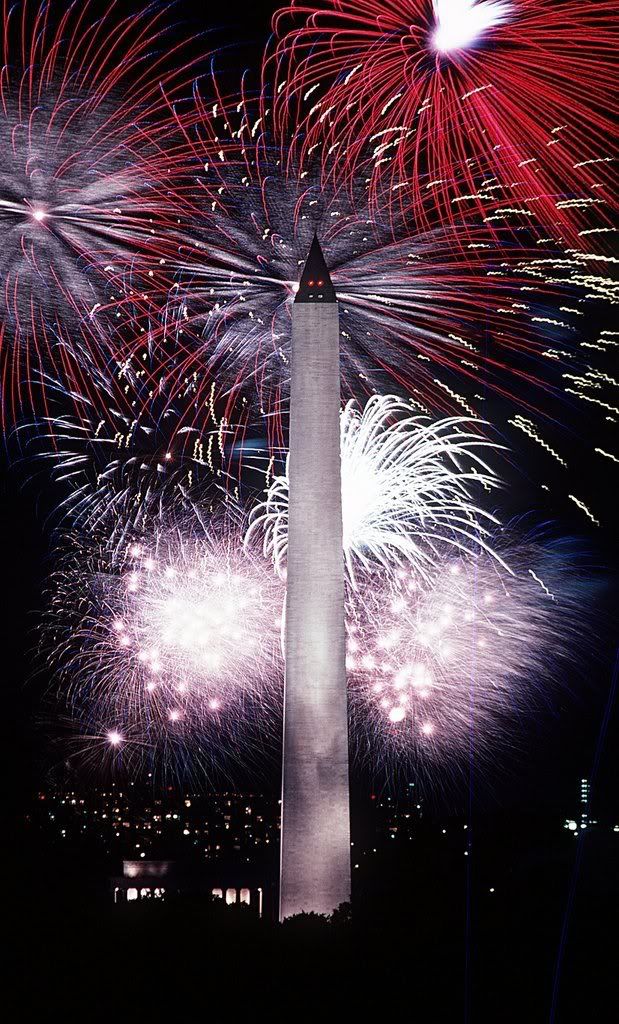 By Kendra Leigh Castle
Happy Fourth of July, everyone! I hope you're all enjoying the day with friends and family and gorging yourselves on good barbecue. Freedom is always worth celebrating (speaking as someone who is making a living thanks to free speech!). And though it isn't perfect, America is a pretty amazing place to call home. So par-tay, people!
Even though I've got a limited audience today, I thought I'd post about something both writing and July-Fourth-related: fireworks. Except I'm not talking about the kind that will singe your eyebrows off if you get too close. I'm talking about that main ingredient of romance novels everywhere: sexual tension. You know how it goes. Boy meets girl, boy and girl talk, girl thinks boy is an idiot (because boy does stupid things), boy and girl each secretly want to rip one another's clothes off and refuse to act on it so by the time they finally do it you are just DYING and possibly yelling at the characters the way your husband yells at the television during football games. Seriously, I have read books that were dripping with so much sexual tension that when the hero and heroine started to get it on and then didn't come through AGAIN, I got vocal. I'm all for spooling up the lust factor, but there's a fine line between excitement and despair there.
Tension can go on for too long, of course (if I'm yelling, this is a good indication), or it can come to fruition too quickly ("Um, wait...didn't they hate each other three pages ago? Like, actually, really hate each other?"), or sometimes, it never really exists at all. I recently read a book wherein the hero and heroine never managed to generate a single spark of heat together. Not in their kisses. Not in their horribly awkward sex scenes. Not ever. I was bummed for them. They were so not right for one another.
Working sexual tension in a story so that the reader stays interested without eventually hurling the book at the wall is a delicate balance. I don't know that I've got the formula right any more than anyone does, but there is one main thing that often seems to make or break the sexual tension in a story. It's gonna sound completely obvious, but in every book I've read where the sexual tension was lacking, this has been missing. Ready for it? Here goes.
The hero and heroine have to like each other. And we have to buy that they would.
Sounds simple, right? But there are plenty of books out there where the hero and heroine are sleeping together, and yet there seems to be no connection except the physical for an extended period of time. Generally, the reader is asked to accept that some magical thing happens in the last chapter or two where these two mismatched souls discover that they can talk to one another without fighting and/or passing out from boredom, but I never manage to believe it. Because at that point, the hero has usually been a jerk for about three hundred pages, and the heroine has often been a doormat for just as long. I may be angry enough at both of them for their excessive and endless obnoxiousness to be wishing them on one another at that point, but I still can't believe that, were they living and breathing, they would ever be giving one another the time of day. And that's they key, isn't it? Marriages work when the partners are both friends and lovers. And lust dies very quickly if there's not any cerebral stimulation to back it up.
Now, I'm not saying that the friendship has to bloom before there can be sexy time. I have beloved books in which there is plenty of action before too many words occur. In those cases, though, I've met the hero and heroine separately, and I can see the compatability. I know they're going to like one another, even if they don't...yet. And I want to see them together, so the sexual tension is there from the get-go. But being able to see even the beginnings of that "click" that two compatible people make is crucial to sexual tension. If they can't talk to one another and be interested, intrigued, fascinated on some level, the sex, at least for me, is going to fall flat. I think that's why I love Regencies so much...the buildup is huge, and the tension has lots of time to develop because all the interested parties can DO is talk!
Some of my favorite scenes to write are the ones where the hero and heroine are just bantering. My characters generally refuse to do much pawing unless I let them interact a little first. And I don't blame them...watching those sparks fly is endlessly entertaining, and I get to watch not just the formation of a pair of lovers, but of partners, and friends.
So what are your thoughts on sexual tension? I'd love to hear!
Happy Fourth of July!
Kendra